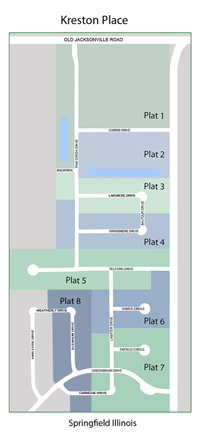 Located between Greenbriar Drive and Old Jacksonville Road along the west side of Koke Mill Road, Kreston Place is an address of distinction.
This 80 acre residential and commercial development includes medical building sites, office building sites and residential building sites.
Commercial Development
Kreston Place is the home of the Gailey Eye Clinic and Orthopedic Center of Illinois and offers an attractive location for additional medical development.
Residential Development
Duplex townhome residential construction has flourished. Kreston Place Plat 6 is now open, and includes single family residential building sites and one corner duplex site.
Kreston Place – All Plats (3.07mb PDF)
Kreston Place – Map with Plats (PNG)
Kreston Place Homeowners Association By-Laws (4mb PDF)
Residential Building Lots
Commercial Building Lots
Save
Category
Kreston Place
Tags
Kreston Place
,
medical building lots
,
office building lots
,
office property for sale
,
residential building lots